Nadia Ali Performing Live & Faasheed
Friday, November 28, 2008
Time: 07:38 PM
1015 Folsom
1015 Folsom Street
San Francisco, CA
Phone: 9252854292
Email: mirzarsvp@yahoo.com


Add to Calendar

Mirza Party . Rhythm Ethics . World Town

& Series Group
Present...


FOR THE FIRST TIME IN HISTORY


Friday November 28th 2008



The Day After Thanksgiving

&


 



THE NEXT CHAPTER IN SAN FRANCISCO's NIGHT
LIFE


SF's Top International Promoters & DJs are getting together once again to bring
you Top America's Talents


NADIA ALI - THE VOICE OF IIO


LAS VEGAS BEST HOUSE MUSIC DJ/Producer

FAARSHEED


 at San Francisco's

LARGEST VENUE


1 0 1 5   F O L S O M



1015 FOLSOM ST. @ 6th - SAN FRANCISCO

Friday November 28th 2008


The day after thanksgiving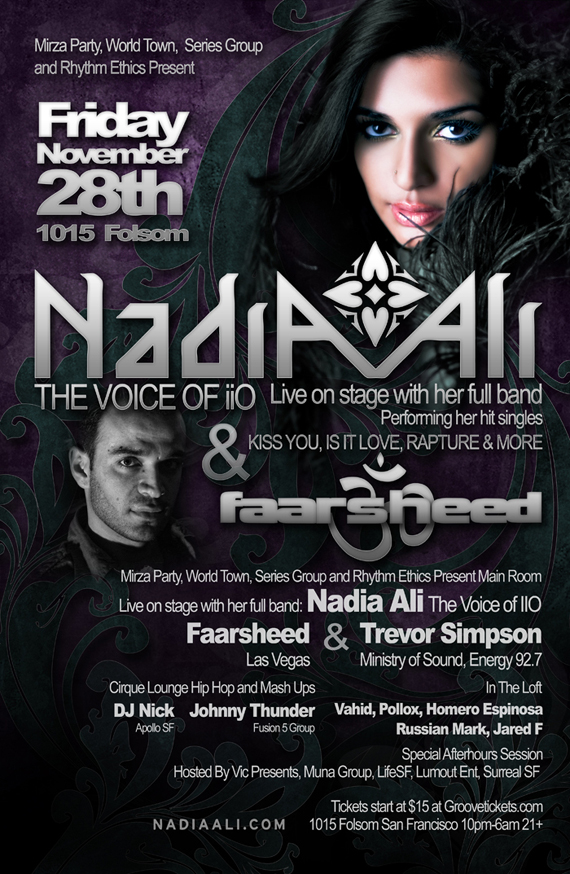 First 200 Tickets Are Now Sold Out.


THIS EVENT WILL SELL OUT.


To guarantee your admission to this event please purchase
presale tickets.






This event features three unique levels who will be fueled by the unique musical
styles by some of the countries premiere talent.



Guests are encouraged to bring their A-game by
dressing in their most extravagant, sexy and intelligent outfit.




With four of the San Francisco top party promotions groups involved, this event
will be of epic proportions and will definitely be a party simply not to miss!
Discounted pre-sale tickets are now available online, get yours today!
Bottle Service/Table
Reservation Call

925.285.4292
Any Questions!! Email the
Mirza Party Team at:
MirzaRSVP@yahoo.com

Ticket prices will increase as the date of the
event approaches.

THIS EVENT WILL SELL OUT. LIMITED AVAILABILITY.


Next 200 tickets are only $20!

Pre-Sale Tickets Will Go Up
Posted by Mirza Party.
Reviewed/approved by talieshah -.

Comments