Tarschool Classes Begin in San Jose
Sunday, March 29, 2009
Time: 10:00 AM
Cambrian Yoga
1900 Camden Ave Suite 201
San Jose, California
Phone: 925.899.9053
Email: tarschool@yahoo.com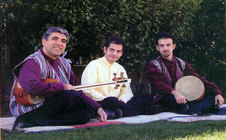 Add to Calendar
The Tarschool is a cultural institution whose main mission is to promote and preserve Persian classical music through musical education and performance. This musical education includes the study of various Persian instruments, such as Tar, Setar, Ud, Tombak, Daf, Kamancheh and Santoor. It also includes vocal instruction, Persian music theory and history, as well as special classes for children.
The Tarschool is also the source of certain academic projects such as the researching of and writing about subjects in the realm of Persian classical and folk music.
Musical performances include concerts of the Neydavood Ensemble and the group performance of the Tarschool students.
The Tarschool was founded by Ashkan Ghafouri in January 2001 as a school for "Tar" and "Setar" instruction. Aryan Rahmanian and other musicians joined the school soon after its establishment, at which point it evolved into a cultural center for studying, performing and appreciating Persian classical and folk music.
Classes are offered in five different locations in Northern California by Tarschool instructors or over the Internet using state of the art Skype service.
Tarschool in conjunction with the Internet Persian Classical Music radio, http://www.radiodarvish.com, created a non-profit organization called SCALE (School of Culture, Art,Literature and Entertainment) in order to promote Persian art and culture.
Ashkan Ghafouri
School Director
925.899.9053
http://www.tarschool.com
Posted by Ashkan Ghafouri.
Reviewed/approved by Gregory Hamburg.

Comments